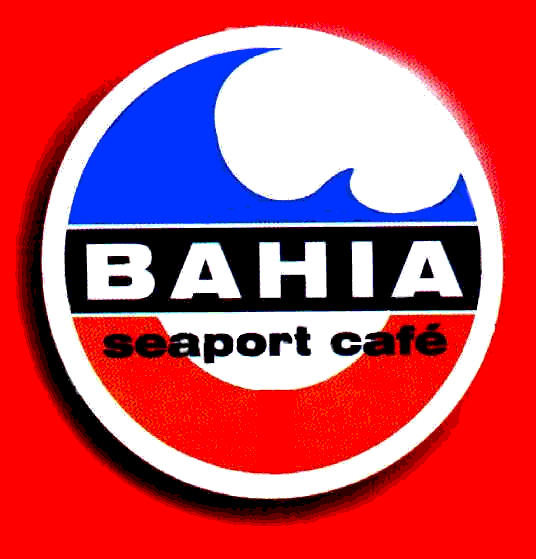 ---
BAHIA

seaport café
---

English speaking friends please click here

Avenida Fernandez Juncos, Muelle #10, Puerta de Tierra, San Juan, Puerto Rico 00901
TEL. (787) 724-6222
Correo Eléctronico: bahiasp@pier10thearena.com
---
BIENVENIDOS
SOMOS el primer restaurante de tema náutico en el área Metropolitana de San Juan. Le invitamos a disfrutar del profundo color azul del mar, los maravillosos colores del atardecer, la brillantez del Sol reflejada en la naturaleza y la vida marina de nuestros mares, en una atmósfera de elegancia casual y sofisticada. Combinamos el más armonioso ambiente con un menú selecto de delicias del mar y los mejores platos de la cocina popular, preparados con productos frescos y de alta calidad.

MENU
Seaport Pastas

Salads

Shrimp Net

Bahia Salad

Linguine pasta with red onions, Portobello mushroom and tomatoes.**Chef's Specialty**
Mesculum, lettuce, tomatoes, carrots, and cucumbers.
Sausage Pasta

S

eaport Salad
Linguini pasta with house sausage and a combination of marinara & BBQ guava sauce.
Choice of shrimp or chicken.
Chicken Pasta
Caesars Salad
Linguine pasta with red onions, Portobello mushroom and tomatoes and grilled chicken marinated with coconut milk.
With homemade dressing.
Homemade dressings: Ranch, Homemade Bleu Cheese, Herb Dressing, "Guava Piña", Vinaigrette, Mango Vinaigrette.

Entrees

Soups

Chicken Coco with Pineapple Sauce

**Chef's Specialty**

Chicken & Noodle Soup

Ask for the soup of the day

Soup and Salad - choice of Bahia or Caesar Salad

Breaded Shrimp

With a pineapple "mojito"

Shrimp Sambuca

With a sautéed carrots, celery & onions in Sambuca cream.

Mango-Bailey's Fish Fillet

Red Snapper with a sweet Mango-Bailey's sauce.

Portobello Fish Fillet

Mahi-Mahi accompanied with Portobello slaw.

Guava Ribs

**Chef's Specialty**

Skirt Steak

Porterhouse

House Specialties
100 % Beef Hot Dogs
Tequila Chicken Sausage
Chicken Apple Sausage
Chicken Andouille Sausage
Hot Italian Sausage
Dan zinger Sausage
Louisiana Pork Sausage
Yucatan Sausage
Orange-Garlic Cumin Sausage
Chicken & Duck Sausage
Fresh Chorizo Sausage
Fig Sausage
All the sausages come with potato fries, green peppers, onions, bread & the house mustard sauce.
Appetizers

Tropical Shrimp
Bahia Wings
Accompanied with a mixture of veggies and fruits
Choice of BBQ / guava sauce, regular of Hot Sauce
Chicken Tenders
Jalapeño Poppers
Choice of BBQ / guava sauce or Honey Dijon Mustard
With lobster sauce
Mozzarella Sticks
Traditional Samplers
With Tropical Marinara Sauce
A combination of chicken tenders, chicken wings and mozzarella sticks
Potato Skins
Sausage Sampler
A choice of our variety of Sausages
Desserts

Beverages

Ask for our special daily desserts
Soft Drinks

Juices

Frozen Drinks

Coffee
---
BAHIA

seaport café
---
Es un salón de entretenimiento de 5,000 pies cuadrados, donde se combinan restaurante, barra, café, escenario para orquestas y bandas de rock, discjokey, pista de baile y un exclusivo espacio privado para VIPs. Además de un moderno y especializado equipo de audio, video e iluminación.
Los suculentos manjares de nuestra cocina caribeña e internacional, la variada selección de vinos y bebidas, junto con nuestro calendario de actividades especialmente programadas para el disfrute del público local y extranjero, hacen de BAHIA seaport café el local de entretenimiento integral para jóvenes y adultos profesionales.
---
¡Gracias por su Visita!


TEL. (787) 724-6222
Correo Eléctronico: bahiasp@pier10thearena.com
---
Diseño y contenido propiedad exclusiva de:
Pier 10 Enterntainemt Complex
---
Webmaster: Lolita Ayala for Tropical Web Designs
alafaya51@hotmail.com