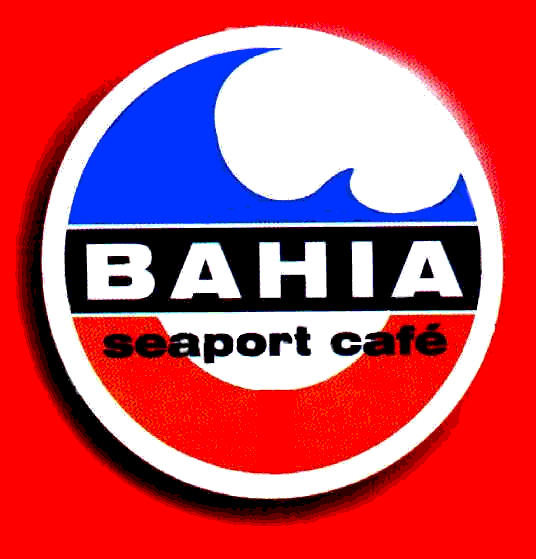 ---
BAHIA

seaport café
---
Fernandez Juncos Ave., Pier #10, Puerta de Tierra, San Juan, Puerto Rico 00901
TEL. (787) 724-6222
e-mail: bahiasp@pier10thearena.com
For our English speaking friends!
WELCOME
We are the first ocean/nautical theme restaurant in the Metropolitan area of San Juan. We invite you to enjoy the deep blue of the sea, the incredible colors of sunset, the brightness of the Caribbean sun, reflected in nature and the sea life of the surrounding oceans, in a casual but sophisticated environment. At BAHIA Sea Port Cafe we combine the best environment together with a special menu filled with sea delicacies, prepared with fresh products of optimum quality. Come and enjoy with us of this unique culinary experience...

Menu
Seaport Pastas

Salads

Shrimp Net

Bahia Salad

Linguine pasta with red onions, Portobello mushroom and tomatoes.**Chef's Specialty**
Mesculum, lettuce, tomatoes, carrots, and cucumbers.
Sausage Pasta

S

eaport Salad
Linguini pasta with house sausage and a combination of marinara & BBQ guava sauce.
Choice of shrimp or chicken.
Chicken Pasta
Caesars Salad
Linguine pasta with red onions, Portobello mushroom and tomatoes and grilled chicken marinated with coconut milk.
With homemade dressing.
Homemade dressings: Ranch, Homemade Bleu Cheese, Herb Dressing, "Guava Piña", Vinaigrette, Mango Vinaigrette.

Entrees

Soups

Chicken Coco with Pineapple Sauce

**Chef's Specialty**

Chicken & Noodle Soup

Ask for the soup of the day

Soup and Salad - choice of Bahia or Caesar Salad

Breaded Shrimp

With a pineapple "mojito"

Shrimp Sambuca

With a sautéed carrots, celery & onions in Sambuca cream.

Mango-Bailey's Fish Fillet

Red Snapper with a sweet Mango-Bailey's sauce.

Portobello Fish Fillet

Mahi-Mahi accompanied with Portobello slaw.

Guava Ribs

**Chef's Specialty**

Skirt Steak

Porterhouse

House Specialties
100 % Beef Hot Dogs
Tequila Chicken Sausage
Chicken Apple Sausage
Chicken Andouille Sausage
Hot Italian Sausage
Dan zinger Sausage
Louisiana Pork Sausage
Yucatan Sausage
Orange-Garlic Cumin Sausage
Chicken & Duck Sausage
Fresh Chorizo Sausage
Fig Sausage
All the sausages come with potato fries, green peppers, onions, bread & the house mustard sauce.
Appetizers

Tropical Shrimp
Bahia Wings
Accompanied with a mixture of veggies and fruits
Choice of BBQ / guava sauce, regular of Hot Sauce
Chicken Tenders
Jalapeño Poppers
Choice of BBQ / guava sauce or Honey Dijon Mustard
With lobster sauce
Mozzarella Sticks
Traditional Samplers
With Tropical Marinara Sauce
A combination of chicken tenders, chicken wings and mozzarella sticks
Potato Skins
Sausage Sampler
A choice of our variety of Sausages
Desserts

Beverages

Ask for our special daily desserts
Soft Drinks

Juices

Frozen Drinks

Coffee
---
BAHIA

seaport café
---
BAHIA seaport café is a 5,000 entertainment area, where we have combined restaurant, bar, cafe, stage for bands and orchestras, DJ, dancing area and exclusive VIP area. Altogether with state of the art audio, video and lighting equipment.

The exquisite plates of our international and Caribbean cuisine. the vast selection of fine wines, together with our activities schedule specially programmed for the enjoyment or our local and tourist visitors, have made BAHIA seaport café the most popular place to go for the young professional.
---
¡Gracias por su Visita!

TEL. (787) 724-6222
Correo Eléctronico: bahiasp@pier10thearena.com
---
Diseño y contenido propiedad exclusiva de:
Pier 10 Enterntainemt Complex
---
Webmaster: Lolita Ayala for Tropical Web Designs
alafaya51@hotmail.com